SAMPLE COACH HOFFMAN'S KICKING VIDEO
* Special drills to increase accuracy on your field goals
* Weight training and drills to increase kickoff distance
* Proven workout to power up your leg strength
* Learn to kick under pressure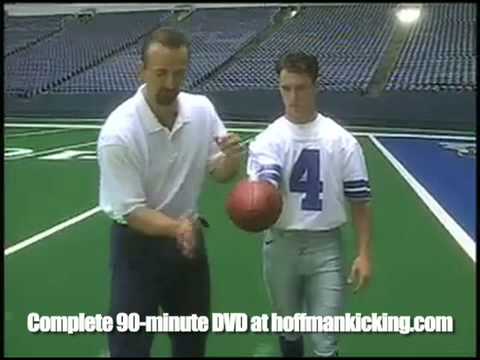 SAMPLE COACH HOFFMAN'S PUNTING VIDEO
* Punt under pressure
* Spiral your punts
* Increase hang time
* Perfect the drop
* Pooch kick
FREE GIFT

WITH DVD ORDER!  Coach Hoffman's exclusive 12 Week Workout Plan for Kickers and Punters

Don't waste your valuable conditioning time doing the wrong drills.  Follow Coach Hoffman's specific drill routine. Get efficient.  Get fit.  Get distance and hang time.
"In college I only attempted 14 field goals, total.
My rookie season in Dallas with Coach Hoffman I was 34 of 37 and named to the NFL All Pro team. He works miracles with accuracy."
– Richie Cunningham, NFL All Pr

"I first met Steve when I was at Univ of Miami.
He taught me the basics of punting which I've turned into a successful 20 year NFL career. There's nobody better."
– Jeff Feagles, All Pro Punter
"Steve Hoffman has been able to develop kickers and punters
with tremendous results."
– John Madden, Sportscaster